Do you want to recharge your SIM balance that is using the STC network carrier? Do not know how to recharge STC? Then, various ways are available for you to recharge.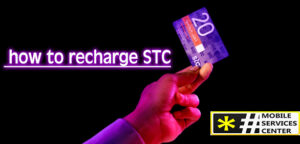 Few of the ways to recharge include:
Use the STC website
It is a simple way to STC recharge at any point in time. Follow these steps:
Go to the MySTC website and enter your credentials (username and password)
Select the mobile number you would like to recharge from the Select Account
Click Recharge. Select the mode that you want to use to make the payment for the recharge.
You can use either the Credit card or the Mada card. By entering the card details, click Pay
Provide the recharge code to recharge the mobile and start using it
Use STC application
The process followed for recharging the mobile through the application is the same as you have done on the STC website.
Use STC Self-Service machines
There are self-service machines available for recharging the mobile with ease. Here are the steps you must follow for it:
Go to the STC Self-service machine that is in Saudi Arabia. You can find the locations where you can find the Self-service machines
Select SAWA recharge package and the number to which you want to recharge this package
Insert the ATM card or credit card and provide the PIN details to recharge
It is the simple yet best way to complete the recharge process
Use Recharge cards or vouchers
This is another best method that you can follow to recharge your mobile.
Call # and enter the number, i.e. *155*
Send the message to 900 and enter the recharge number giving a space 155.
Call to 1500 and select the recharge that you would like to do on the mobile and provide the recharge card code
Log on to the STC website and enter the mobile number that you would like to recharge and then enter the recharge card code
Use prepaid SAWA line
This is another way to recharge the mobile
Send an SMS to 900 wherein you must enter the amount that you would like to add to the SIM balance and then enter the mobile number and give a space and type 133
Bank websites
The recharge for the mobile can also be done through the bank websites
You must access the bank website in which you hold the account.
When you click on the Payments or Billing payment, you will get the list of services that are available
Select recharge for the Sawa line or can enter the subscription number of SAWA line and link it to the bank account
Select the appropriate payment method that you would like to use to complete the recharge process
Bank ATMs
It is another simple way to recharge the mobile. When you go to the ATM centre to withdraw, you can also recharge the mobile
Insert the ATM card and enter the PIN code
Select the service payment and select STC
Select the prepaid option and provide the mobile number along with the recharge amount to finish the recharging process