Not all people who visit Saudi are fluent in Arabic. Thus many people ask us on different platforms about how to change the language in STC.
The STC mobile connection that you get after registering yourself as a user in Arabic will help you to call and send messages in Arabic. In addition to this, changing the language profile will also help you to get in touch with customer care executives from STC.
About STC
STC is a Saudi-Arabia based Digital company that offers telecommunication services, landline, mobile, and Internet services to customers in Saudi Arabia. Almost 81% of Customers from Saudi use STC connection. With such a vast user base, the company is the most popular and renowned telecommunication provider in Saudi.
The company not only caters to the telecommunication needs of the citizens from Saudi Arabia, but they also provide the best telecommunication services to foreigners who visit their land. If you are not too fluent in Arabic, you may find it pretty difficult to understand what people are speaking. Talking to customer service executives can be a challenging task.
In this article, we will discuss How to Change Language in STC.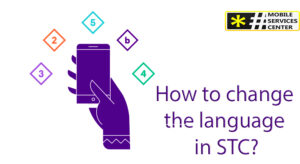 How to change the language in STC?
If you are an STC user, you might have paid attention that the service providers mostly send messages and notification in Arabic. Since most people in Saudi Arabia are fluent in understanding and reading Arabic, they don't face any problem. But, if you are a visitor to Saudi Arabia, or if you have visited the country as a part of your employment, you may feel irritated to get messages in the language that you don't understand.
In this article, we will provide you with two ways that can be used to change the language in STC:
By SMS
The SMS service provided by STC is pretty convenient. You can get all answers to your grievances by sending SMS to the company. To change the language of the SIM from Arabic to English, you have to type 1390 and send the SMS to 900.
900 is a number that is specifically used to get in touch with STC customer care executives. In addition to this, if you want to change the number again from English to Arabic, you have to type 1290 and send it to 900.
By using Application
The language in STC can also be changed by using the STC application. The Application is available on Playstore as well as on iTunes.
Follow these steps to change the language in STC.
In the first step, Download the MySTC App from Playstore or iTunes.
Then, you need to login to the account.
Click login to the number for which you want to change the language.
Enter your STC number
The system will send you a verification number within a few seconds
Enter the PIN that you received through the SMS
Click on the Properties Tab
Change the language to English or your preferred language.
We hope this article will help you to know to change the language in STC.