Numerous mobile phone operators exist in Saudi Arabia. But, the best operator is said to be STC. The company provides the best quality plans and packages for prepaid as well as postpaid SIM. If you are sure about purchasing STC SIM, this article will provide you with complete information about how to activate STC SIM Card with Iqama.
STC is one of the best mobile and telecommunication service providers in Saudi Arabia, and it was founded in the year 1998. Since then, it is renowned for being the best performer in terms of providing the best services. As per data, almost 81% of mobile users in Saudi Arabia use STC SIM Cards.
Let's see how to activate STC SIM card with Iqama.
To avail telecommunication services in Saudi Arabia, you will need Iqama.
What is Iqama?
Every resident in Saudi Arabia should have an Iqama number. Iqama is also called Muqeem card, and it is issued by the Ministry of Interiors in Saudi Arabia. Iqama is basically a resident identity for people living in Saudi Arabia. Every expatriate living in Saudi Arabia has to carry the Iqama while they are residing in Saudi Arabia.
Different details included in Iqama includes:
Name of the person
Iqama number
Place of issue
Issue date
Date of birth
Nationality
Religion
Work permit
Iqama number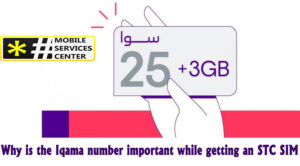 Why is the Iqama number important while getting an STC SIM?
The Iqama number works as an identity proof while you are getting a SIM Card. As per the government rules and regulations in Saudi Arabia, you will get a residential status if you have the Iqama number. Thus, when you are thinking about getting a SIM card, you can use the STC Sim registration Iqama Online. Thus, if you have Iqama as your ID, you can easily get a SIM card in Saudi Arabia.
Getting a mobile phone SIM card in Saudi Arabia
If you are worried about how to activate STC SIM card with Iqama, the process is pretty simple and smooth. STC allows you to activate and subscribe to its services by calling the company or even by sending SMS. STC has a dedicated app and website that is available to activate the SIM you receive. If you want to activate your SIM quickly, it is advisable to visit their store.
To get the STC SIM, you have to provide your Iqama and your passport to the company. You also have to provide information like your name, email, and other details needed to subscribe to the service. Once the company has all the needed information, STC will start your mobile service within a few hours of receiving the SIM Card. If you can't visit the store physically, you can avail the services online. But, the online services may take more time as compared to visiting the store.
Thus get your Iqama card before you think about getting an STC SIM card. We hope this article will answer all your questions about how to activate STC SIM cards with Iqama.
Contact us, in case you need more information about STC SIM cards.